Alan Casey Entertainment Agency - Australia
Brisbane - Sydney - Melbourne - Gold Coast - Sunshine Coast - Toowoomba - Ipswich - North Coast
New South Wales - Queensland - Victoria - South Australia

Ph 1300 666 286 International 61 + 422 434 014
The Nashville Country Legends Show - Brisbane


Australia's Hottest New Country Show
After touring Australia Nationally for over seven years and performing at over five hundred great shows in in Clubs and Theatres from Nhulunbuy to Mt.Gambier,
Perth to Brisbane and Bourke to Ceduna. DailPlatz now presents his latest touring show and tribute to the "Nashville Country Legends".
The show includes all time country hits from legendary artists like, Hank Williams, Don Gibson, Merle Haggard, Johnny Horton, Don Williams and Charlie Daniels -
as well as modern country stars like, Alan Jackson, George strait, Garth Brooks, Keith Whitley, Dwight Yoakam and The Mavericks.
Featuring many well known favourites like - The Devil Went Down To Georgia, Duelling Banjo's, North To Alaska, Chattahoochie, Your Cheating Heart,
Friends In Low Places, Guitars And Cadillacs, Heartaches By The Number, Sea Of Heartbreak, Battle Of New Orleans, Whispering Pines, Oh Lonesome Me,
Don't Rock The Jukebox, Mercury Blues, Ring Of Fire, Tennessee Waltz, The Orange Blossom Special and many more ....

Canadian born Platz is an international artist with a unique background.
He performed in the true honky tonks and bars of North America for many years before making the move to Australia.

From a musical family, Dail grew up in the foothills of the Canadian Rocky Mountains with a house full of kids, guns, (for the bears) and musical instruments.
Banjo's, Accordions, Mandolin,Guitars, Upright Bass, Washboard, Juice Harp, and spoons did double-duty.
There were also usually a half dozen friends and relatives having a jam that quite often lasted till well after his bed-time.

His Dad was also a multi-instrumentalist and a great fiddle player.Dail still likes to include a few of those old tunes in his shows.
Falling asleep to the sounds of the Old Country Tunes of the day maybe what still draws him to the great country songs of the past.
Since arriving here in Australia Dailhas created, produced and played a starring role in The Highwaymen Tribute Show,
The Grand Ole' Opry, Johnny Cash and The Tennessee Two, The Alan Jackson Tribute Show and The Willie Nelson Tribute Show.

These touring shows were all well received and Dailhas won acclaim across Australia for the professional standard that was evident to everyone who attended.

One of the outstanding features in all these shows is the incredible talent and versatility he displays both vocally and instrumentally,
and with his obvious unrivalled skill playing acoustic and electric guitars, fiddle, mandolin and 5 string banjo, to name a few!
It goes without saying that Dail is a perfectionist but beyond that he is also one of Australia's top entertainers.
He has been quoted as saying that the patrons could stay home and listen to their home theatre if all they wanted was great sounding music.
They come out to the shows to have a good time and be entertained.
Dallas Southam– Electric Guitar and Pedal Steel Guitar – Words can 't describe adequately the sound that his fingers produce!
A great player that is appreciated not only by audiences but especially by his fellow musicians.
Laurie Keating - Drums – Laurie reproduces the original sound of the great country drummers, and is the glue that binds it all together.
Producing the New, "NASHVILLE COUNTRY LEGENDS SHOW" has been a labor of love.
The show is all about the great music that has sold hundreds of millions word-wide and is only gaining in popularity.

Many fans of the show believe it may be the best "Country Show"currently touring Australia.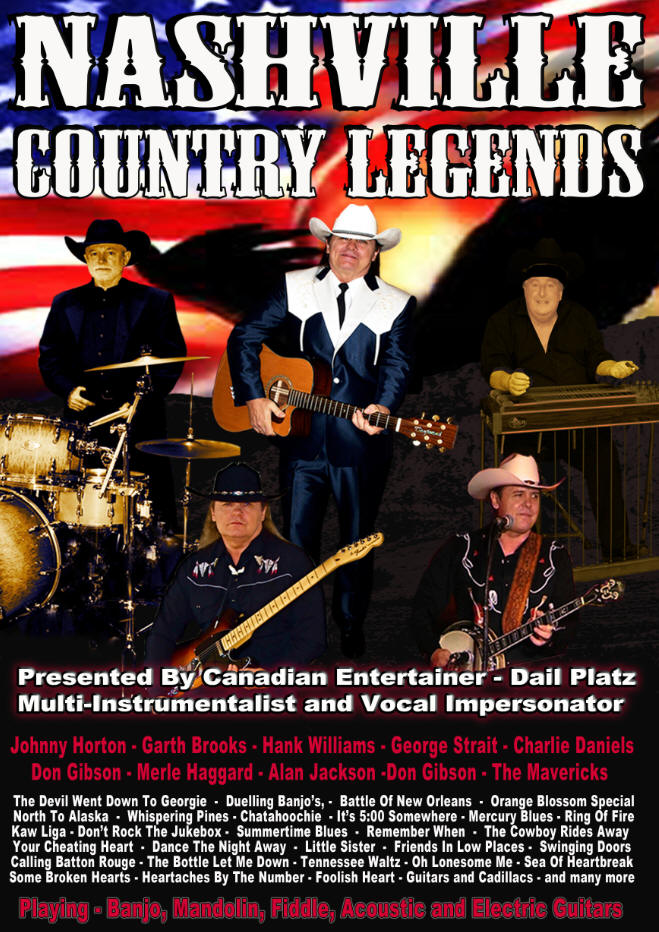 Email Us Phone: 1300 666 286