Alan Casey Entertainment Agency - Australia
Brisbane - Sydney - Melbourne - Gold Coast - Sunshine Coast - Toowoomba - Ipswich - North Coast
New South Wales - Queensland - Victoria - South Australia

Ph 1300 666 286 International 61 + 422 434 014

Comical Characters - Mix & Mingle Fun - Crazy Acts


Neil Bidner

-

Rob Bowen

-

John Reid

-

Vince Nash

-

Chris Morant

-

Leo Boone

-

Kurt

D

-

Mark Theo

+ Others
Fawlty Towers Comedy Act

Dame Edna Act

Kath & Kim Tribute Act

Queen Elizabeth Act

Love Boat Show
Comedy Waiters

Live Guest Book

Stone Butler

Hockeyroos Comedy Act

Herschille

Randy Cowpoke

Bobby Dazzler


Exercise Gurus
Comedy Act


Marilyn Munro
Happy Birthday Show

Fun Celebrant
Renew Your Vows Fun Act

Italian Mob
Fun Act


Baby Elephant Circus Act

Corporate Ninja Act

Old Life Savers

Crazy Life Savers


Gangster Theme Acts

Heroes & Villains Acts

Royal Party Ideas


Gypsy Fortune Tellers
Fun Door Man

Mr Flame

Fun Tarot Readers

Compliments Booth
Dodgy Security
Paparazzi
Happy Snaps
Fun Photographer

Jack Sparrow
Z - from Jupiters


Mad Hatter 1

Mad Hatter

Ab Fab Girls
Queen of Hearts
Charlie Chaplin

British Austin
Patsy
Pink Marilyn
Molly Meldrum
Elvis
Dr Evil
Austin Powers
Mrs Brown

Kath & Kim

Blues Bros

Tina & Mick

Frank Spencer
Groucho Marx
Paddy Mc Ginty

Raymondo

Fritz

Buddy Beach Boy


Count Backwards

Alfie Elf

Dusty Springclean

Buck Outback

Constable Robert

Mrs Claus

Dawn Bowls

Jock Strap

Captain Pillager

Cosmo Hippie

Sergio Gypsy

Neville Tickle

Servant - Beggar

Babu

Gary Love

Led Light


Nigel - Swimmer



Nigel - Tennis

Nigel - Cycle


Way Out Hollywood Trivia - You could be the winner
Yeah Baby Trivia - Presented by Austin Powers - Showbiz Bonanza Game Show
Right Royals

Prince Charming
Oktoberfest Acts

70s Guy

Circus


Captain

Sereno

Ringmaster

Persian


Nick Fury

Red

Explorer

Horror Theme - Halloween Theme - Characters

Cupcake Girls

Meet & Greet Girls

Serving Tray Chics

Living Tables

Gangster - Flappers - Candy Tray Girls
The Fopps


Mini - Ring Master

Mini - Strong Man

Mini - Disco Guy

Exotic Ring Leaders

Ring Master

Ringmaster R

ed

Wonderland Alice

Tea Lady

B

obby

Father Finnbar

Nun Sogood

Lord Smitherington

Gypsy Lady
God Father
Papa the Greek
Boarding Security
Raja


Sheik

Beach Party

Cruise Boat Captain
Moneybags Mario
Harlequin Doll

Mexican Theme

Super Heroes

Hoozatt Mime
March Hare
Toy Maker
Rag Dolls
Garden Ladies
Hugable Hippies
Fun Showgirls
Vulumpture
French Magician
Marcel Pallette
Pierre Ze Drawair
French Mime
Shenzo the Great
Father Bladstone
Dandyman
Melbourne
Popcorn Pirate

Showman

Chinese Theme

Mad Arabian

Nigel Scotfree

Wood Stocked
Aloha Hawaii
Pilot & Hostess
Awful Umpire
Bollywood MC
Boat Inspectors
Lost Pilots
Cloud Men
Sydney
Flossies
Sydney
Lollypop Ladies
Adelaide
UV Girls
Pink Fit
Sydney
Bollywood Girls
Arabian Girls

Swami Magician

Snake Handler

Cheeky Devils

Venetian
Art Deco
Egyptian Queens
Magic Hobo
Masked Magician
Magic Mad Chef
Magic Flight
Magic Pilot
Pirates
Fat Jockeys

Jockeys

Aboriginal Didge
Crikeys
Ned Kelly
African Party Acts

Sharks
Sydney

Seagulls
Sydney
Fish
Lost Fishermen

Miami Vice

Billy Blue Pill

Crazy Clowns

The Joker

Halloween Characters

Christmas Characters

Easter Characters

Super Hero Characters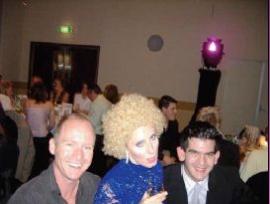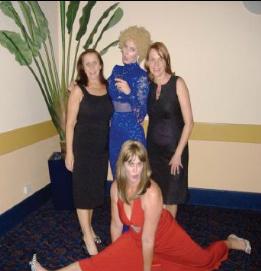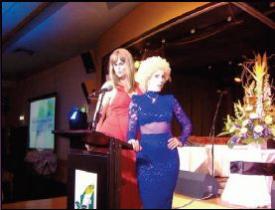 The Kath & Kim Experience (Sydney)
These infamous ladies form Fountain Gate are the life of the party and will have your guests in fits of laughter as Emcees
or roving characters at your next corporate event, awards night or gala dinner. Mingling with your guests, comedy routines,
songs that they change the lyrics to and audience involvement are their speciality. Scripts written especially for your company or guest of honour. Led by Leah Thomas. For stella singing, tongue in cheek humour and a charismatic performance you can't go past Leah Thomas. As one of Sydney's finest cabaret performers, Leah has a wealth of material
including Liza Minnelli and many other favourite chanteuses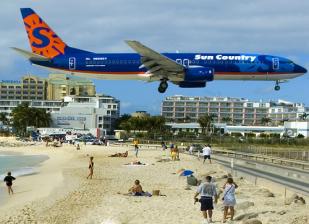 Chance-it Airlines
A group of two male & two female flight attendants, with rather "mincey" chief steward; BRAYDON FAIRCHILD.
A full safety talk and Deep-vein- thrombosis demonstration which goes somewhat awry.
Absolutely hilarious results with your audience! Modern or olden-day flight captain also available. GREAT FOR THEME NIGHTS
The team can do everything from the security & arrivals counter & check-in to landing at your destination.
WELCOME ABOARD!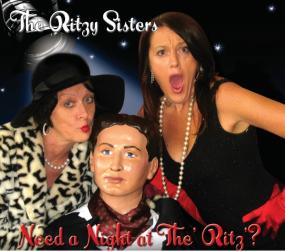 Ritzy Sisters - Comical Cabaret with a sense of France
The ultimate reality game show. hosted by the exciting Bobbie Bing & ever glamorous Delene Dogget "You Got Game" crosses reality TV with a game show.
You guests are greeted by a grumpy producer who will brief your guests on the format of the show and split them into teams.
Enter Bobbie & Delene for a hilarious night of
questions, trivia and action.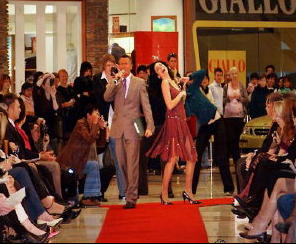 Events Tonight



Staring your hosts Rock Ridge and Mary Tart.
Your star studded event deserves a pair of star studded super hosts, all the way from tinsel town, Rock & Mary will light up your guests with their insane celebrity and fashion talk.
They will bring you up to date with the latest gossip
and what no to wear to your next function.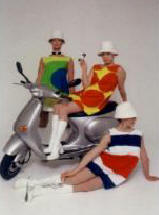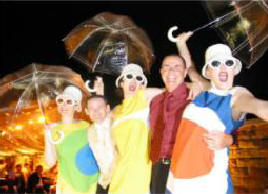 The Cover Girls
A flash back to the early 70s with the Cover Girls
lost in the world of a fashion shoot.
They vogue, they will ask you to take their photograph,
be a model extra, or just watch them Sing and dance. Bright , bold and bewitching
the Cover Girls transport you into the world of glamour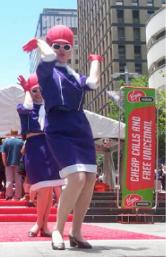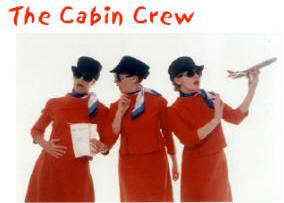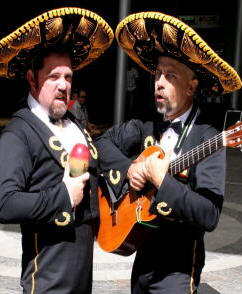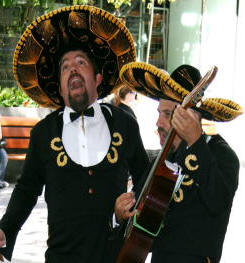 Kundelini Brothers
After a serious boating accident, that occurred on dry land,
the Brothers are finally back after a 6 year rehabilitation period
for younger Brother Edwardo.
These Mexican gringos will Sing and play their Guitar till the Sun goes down. Guaranteed to liven up any occasion.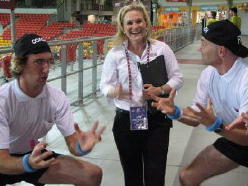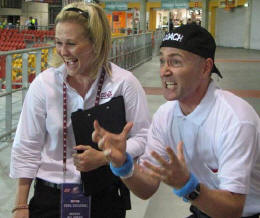 Our life coaches literally astound themselves!
They will give you the life skills or at least the idea of skills,
OK they'll just shout and jump around a lot. A cross between Anthony Robbins, Leigh Matthews & Mr Bean. These characters will energise your funny bones with their mixture
of games and mixed metaphors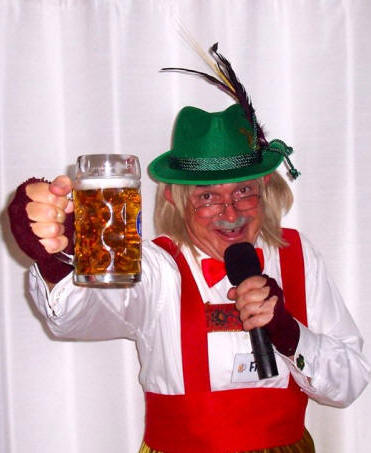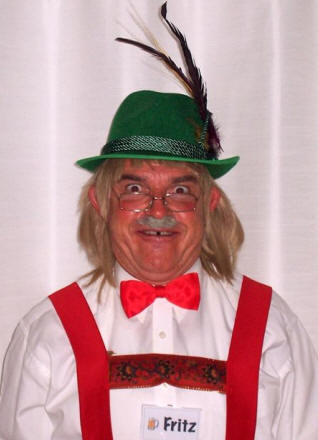 "Fritz Frankenfurter"
Roving or Meet & Greet Comedy Character (Brisbane)

Stage Compere / MC.
Happy to work in with Oompah bands - Chicken Dance etc.
Fun & Games - * "Pass the German Sausage"; "Find the German Sausage"; "Starker Mann" (strong man/woman + boy and girl); Egg balancing: I supply props for these * Sausage Eating: Venue supply sausages * Apple Eating Competitions Etc
If venue has a Spin & Win Wheel or similar, can use for "Chicken Wheel", or "Sausage Wheel", lucky spots etc.
Can supply his own radio/roving mic and patch in with band's sound system or Venue sound system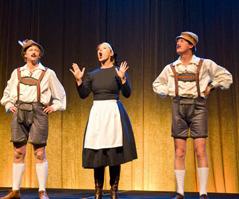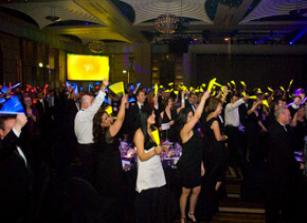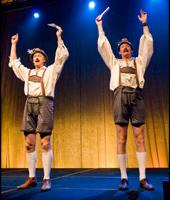 The Sound of Music - Opening Act (Melbourne) An interactive audience participation fun comical show
Fortune Tellers
Paparazzi
Caricaturists
Live Guest Book
Themed DJs

Biker John

Dodgy Security
Pierre Ze Drawair

Road Workers

Father Bladstone

Magic Chef
Magic Hobo
Masked Magician
White Magic
Magic Mad Chef

Lollipop Ladies

The Blockheads

Bowls Lady

Uncle Neil

Stone Butler

Shoe Shiners (Mel)
Clairvoyant

Randy Deville MC

Invisible Man

Plastered

Shower Man (Mel)

Disco Dolls

Neville Nerd

School Kids

The TVs

Medicine Show

Eugene

Fortune Tellers

Gooney Girls

Zoo Keepers

American Tourists

Biscuit Readers

Bouncers (IZ)

Automated Cleaner

The Viggles

American Tourists

The Ice creams

Lost Explorers

Gypsys
Comedy Chefs
Doormen
News Crew
Fashion Fun MCs


Magicians

Celebrity MCs

Lamp Ladies (Syd)

Paparazzi Fun

Live

Statues




Fashion Police

Living Tables - Tray Chic's

Hula Hoopers

Flossies (Syd)
Charlie Chaplin
Price on application
Aqua-sphere

Pink Fit (Syd)
Illuminated Service


Fun Dodgy Security
Price on application

Exercise Gurus

Fashion Fun Doormen
Price on application
Live Statue Guest Book
Price on application
Billy Blue Pill (Syd)
Fire Impact Acts

Aerial & Acrobatic Acts

Fashion Future
Grinder Girls
Price on application
Aerial Champers Parlour

Cabin Crew (Syd)
Classical Groups

Light Up Lettering

Shirley Shagwell (Syd)

Chocolate Fountain Packages




Cover Girls

(Syd)

Meet & Greet Girls