Alan Casey Entertainment Agency - Australia

Brisbane - Sydney - Melbourne - Gold Coast - Sunshine Coast - Toowoomba - Ipswich - North Coast
New South Wales - Queensland - Victoria

Ph 1300 666 286 International 61 +7 3290 1733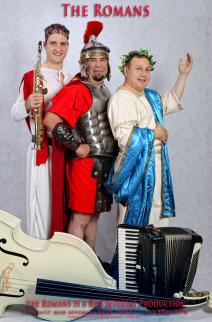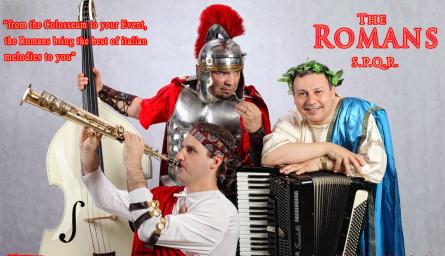 The Roving Romans Duo /Trio
Duo 1hr $400, 2hrs $750, 3hrs $1100, 4hrs $1450
Trio 1hr $600, 2hrs $1100, 3hrs $1600, 4hrs $2100
Italian, French, Spanish, Jewish, Latin & General Music








Email Us Phone: 1300 666 286
The Romans is a traditional roaming style group with an extensive choice of costumes ranging from Centurions to Emperors to Slave and
embarks on a musical journey of classic Italian tunes and familiar melodies. This fabulous ensemble is led by the Roman himself Robert Severini,
a name well know to the arts and musical community. Rob's theory is very simple, when it comes to the Romans…. 'Let's have some fun' he says,
'and enjoy the melody of these great classics'. The Romans deliver an extensive repertoire using their combined skills and experience developed
though decades of work in the professional music scene, both in Australia and abroad. There are not many tunes that these guys don't know!
This outfit is indisputably Australia's most authentic and unique group in today's market place, offering a colourful and sophisticated ambience
to your event without becoming intrusive at any time. Their appearance is testament to their authenticity and adds the perfect touch to a
classic dinner party, cocktail event or music festival.

Robert Severini
Robert Severini is a humble man considering his musical journey spans almost 40 years, 15 countries and over 5000 'live' performances.
Born in the Italian Capital city of Rome, his desire to pursue his study of music led him to The Berkley School of Music located in
Boston Pennsylvania in his very early 20's – this was the beginning of a lifetime commitment.
As a musical artist Robert has performed all over the globe in cabaret, theatre, jazz events, television as well as radio.
Whilst his musical knowledge continued to grow over many years, so too did his skills and diversity as a composer, producer and vocalist,
making touring, recording and producing a part of everyday life for the best part of now 20 years. In recent years his artistic and musical genius
has been responsible for the success of two internationally acclaimed cabaret shows staged at Conrad Jupiters Casino; Hidden Palace
& Tempo Rouge – these were both sell out seasons that kept him resident in the Gold Coast for a five year period as musical director.
During this time Rob was fortunate to have worked alongside some of the finest musicians, performers and entertainers in the world.
Whilst now permanently based in Melbourne, it is The Romans that with their costumes and light hearted fun, gives Rob his greatest kicks.
This enables him the opportunity to really engage in the music that he truly loves...
Combinations for your consideration
Whilst the trio scenario is the signature outfit in most cases, the Romans are open to accommodating alternative line ups to suit both your
theme and/or your budget.