Alan Casey Entertainment Agency - Australia

Brisbane - Sydney - Melbourne - Gold Coast - Sunshine Coast - Toowoomba - Ipswich - North Coast
New South Wales - Queensland - Victoria

Ph 1300 666 286 International 61 +7 3290 1733
Michael Bublé Tribute Acts - Australia
_____________________________________________________________________________________________________________________________________
_____________________________________________________________________________________________________________________________________

The Bublé Experience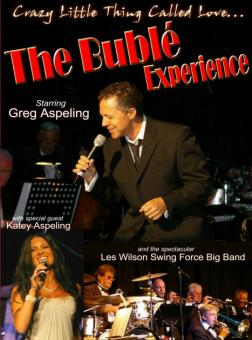 The style popularised by the likes of Frank Sinatra and Bobby Darrin is now as popular as ever, due in no small part to Michael Bublé
who has been almost single-handedly responsible for the rebirth of big band music.
The Buble Experience is not a tribute to Michael Bublé, but rather a salute
Greg Aspeling's unique and smooth renditions of Bublé's work makes his performances enthralling.
With an outstanding 11 piece Big Band (who start the show), and special guest Katey Aspeling
(an absolutely stunning female vocalist), the show is non-stop top-class entertainment.
The second half of the show concentrates more on Bublé featuring all his contemporary hits - Kissing a Fool, Just Haven't Met You Yet, Home etc.
Greg also covers Bublé's versions of classics like All of Me, Foggy Day, Crazy Little thing Called Love, Cry Me A River, and many more.
As stated, this show is NOT a tribute, as Greg Aspeling is not trying to look nor sound specifically like Michael Bublé
however the music and production are pure gold.