Alan Casey Entertainment Agency - Australia
Brisbane - Sydney - Melbourne - Gold Coast - Sunshine Coast - Toowoomba - Ipswich - North Coast
New South Wales - Queensland - Victoria - South Australia

Ph 1300 666 286 International 61 + 422 434 014
Swing Thing - 3 or 4p Band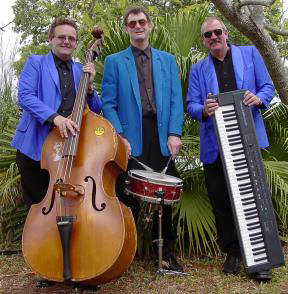 The Swing Thing believe that referrals are the best way to achieve musical success in the business so here goes.
** We have had the pleasure of working with this trio over recent weeks and are happy to recommend them to you. They are fun and lively and by the end of their 4 weeks here we had a number of clients travelling to the venue because they had had heard great reports.
 Please call Mick or myself if you want further reference.
Kate Litherland Redland Bay Hotel.
** Piano player Steve Robinson believes swing music and early rock had plenty in common. 
"The last of the swingers became the first of the rockers," he says. 
"The transitional figures like Louis Jordan, Bill Haley, Louis Prima and Ray Charles were all influenced by jazz and blues. "Rock in the mid 1950s was a lot different to the rock of today. It was basically acoustical music and it had more swing." 
The Brisbane-based pianist and singer leads a band called, not surprising, The Swing Thing. 
The eclectic and accomplished group performs a variety of styles. 
"We play jazz, blues, swing, boogie woogie and early rock," he says.
"They are all linked to a strong melodic and rhythmic base which is what drives our group. "Boogie woogie is seldom heard today. It's played eight to the bar, which is a challenge to many pianists. Rhythm and blues is also out of the musical mainstream, but played well it can communicate to an audience.
The trio also features Jason Williams on bass and Warwick Kennington on drums.
"As well as playing our instruments, the three of us sing either solo, or in three part harmony," says Robinson. 
"We don't use any electrical enhancements whatsoever.
The Swing Thing is the real thing.
Article by: Barry Ralph: Gold Coast Weekender.

The Swing Thing are influenced by a wide spectrum of composers and stylists but our main-stay would be
Louie Jordan, Louie Prima, Fats Domino and The Coasters.
The Swing Thing Sample Repertoire:
Ain't Misbehavin . 
All My Lovin . 
Banana Split . 
Basin St . 
Be My Guest
 . Beat Me Daddy
 . Beyond The Sea
 . Blood Shot Eyes
 . Blow Wind Blow
 . Blueberry Hill . Buena Sera
 . 
Caledonia
 . 
Calendar Girl
 . 

Choo Choo Cha . 
Boogie
 . 
Dedicated Follower Of Fashion
 . 
Five Guys Named Moe
 . 
Flip Flop & Fly
 . 

Four Winds Blow . 

Get A Job
 . 
Good Night Sweetheart . 
 Rockabilly Blues Caboose
 . 
Rockin Pneumonia . 

Rum And Coke
 . 
Saturday Night At The Movies
 . 
Searchin . 

Send Me Some Lovin
 . 
Sentimental Journey
 . 

Shake Rattle & Roll
 . 
She Walks Right In
 . Singing The Blues and many more