Alan Casey Entertainment Agency - Australia

Brisbane - Sydney - Melbourne - Gold Coast - Sunshine Coast - Toowoomba - Ipswich - North Coast
New South Wales - Queensland - Victoria

Ph 1300 666 286 International 61 +7 3290 1733
Singing Waiters - Melbourne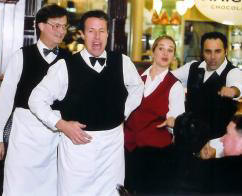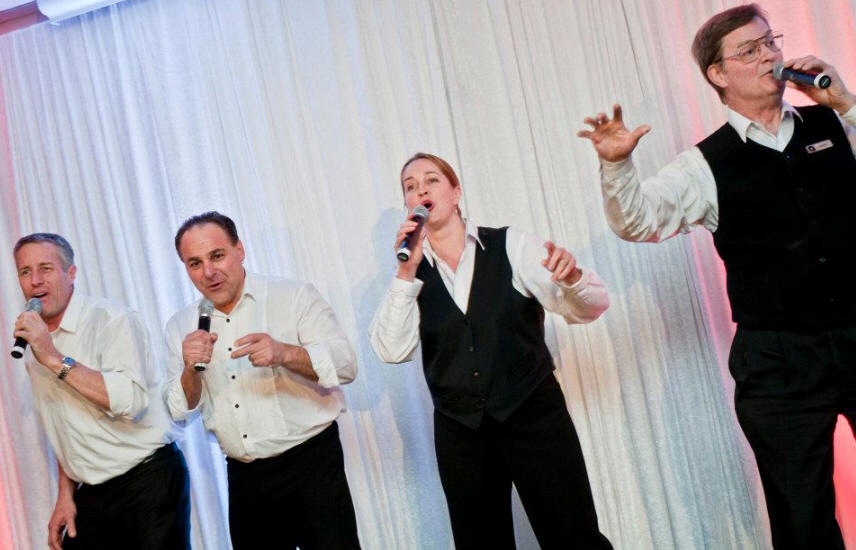 The Melbourne Singing Waiters DO NOT SING OPERA.

They are sometimes confused with the 3 waiters. They sing Acapella. Using only their voices. No Instruments. No Backing Tracks
The Melbourne Singing Waiters dress just like the other real waiters and begin the night by welcoming guests and helping to serve the food and drink.
The guests begin to realize that all is not as it should be, as the waiters become clumsy, flirty and one even appears to be inebriated.
Then just as the dinner plates are being cleared, one of the waiters goes on stage and announces that the band hasn't turned up or s ill, but not to worry because some of the waiters are prepared to give it a go.
He then invites three other waiters on to the stage and they burst into song.
Using no instruments apart from their voices, the Singing Waiters engage the audience with their beautiful harmonies, comedy and lousy choreography.
The Singing Waiters perform hits from the 50's to the 90's and are ideal for audiences of all ages.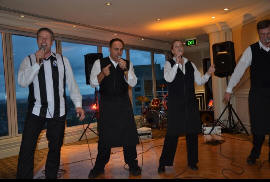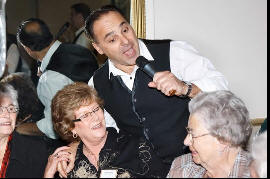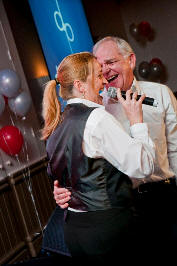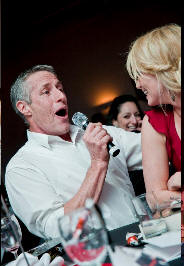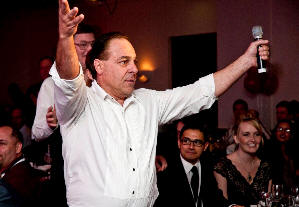 Client Responses:
"Hi Matthew and singers, Thank you very much for delivering such an awesome piece of entertainment. It was thoroughly enjoyed by our delegates and you are all very talented!
Not only will we look to having you on board again in the future, we will also consistently recommend you to anyone and everyone we feel is looking for something special at their next event. Thanks again."
Claire Chesney. Executive Assistant. Dental Partners Conference Sunshine Coast September 2011
"Hi Matthew, The event was fantastic; Excellent and very much appreciated by the crowd! We loved the Singing Waiters! They were funny, friendly and very gifted!
They helped our Service Delivery Team to bond, and also relax after a full day conference."
Marika McLaughlin. YarraTrams. Conference at RACV resort Cape Shank February 2011
"Dear Matthew. Thank you so very much for the wonderful performance of The Singing Waiters at our Supporter Thank You Luncheon last Thursday.
Your group is sensational and we received some lovely feedback from people who attended the occasion. Your choice of music was great and I definitely saw a few toes tapping to the rhythm.
I will keep you in mind for future functions Baptcare may hold."
Mary Quirk | Bequest Officer. Central Offic. Baptcare. October 2010.
Hi Matthew, Thank you singing waiters. You all did a fantastic job - even the real waiting staff were all very impressed.
Thank you very much! The night was fabulous and everyone said they had a great night, so thank you for being a part of it".
Melanie Leahy Graphics Unlimited (Vic) Pty Ltd. July 2010
"The Singing Waiters were fabulous – they were a great start to the night! We would not hesitate to recommend them to anyone.
Feedback received from all that attended on night has been great as well."
Judy Rielly. Powercorp. Bendigo May 2010
"Thanks so much for your amazing input to our Barmitzvah function last Friday.
We have spent much of the weekend hearing snippets from delighted family and friends regarding your antics before you revealed your identity and accolades on the musical performance and subsequent humour as well.
A few of the catering staff have now resigned their positions after the shock of being "had" on the evening!
We are delighted that you were able to add to our celebration in such a great way. Please pass on our thanks to Sig and Michael as well.
We hope we will meet again at some other function."
Michelle & Steve Seidman. August 2008
"Hi Matthew. We were delighted with Saturday night. The Singing Waiters were an ideal compliment to the evening, and we appreciated your flexibility and how you worked with the atmosphere and the crowd,
we have had rave reviews from many guests. It is always very difficult trying to combine a "serious" food and wine dinner with a bit of frivolity,
we want to ensure the serious wine buffs are satisfied and those wanting a bit of fun get just that also, I think we did it and thanks sincerely."
Robyn Dalkin. Garden Gully Grampians Wine & Produce. July 2008
"Please pass my thanks on to the Singing Waiters for a wonderful performance.
As you would have realised the entertainment was perfectly matched to the crowd. I thought it might be hard to hold their attention after a few drinks but you had them right throughout your set.
The crowd participation created a great atmosphere. Robyn informed me that you were a great bunch of people to work with making it an enjoyable experience for everyone.
I hope you guys enjoyed your time in Ararat / Great Western
."
Rod McKenzie. Director - Ararat Performing Arts Centre. July 2008
Song List
• Do Wa Diddi • Another Saturday Night • Do Ron Ron • Blue Moon • Is She Really Going Out With Him • Be Bop A Lu La • The Wanderer • Rock & Roll Medley
• Runaround Sue • Under The Boardwalk • My Girl • Working In A Coalmine • That's Amore' • The Blues • California Dreaming • Stand By Me
• Will You Still Love Me Tomorrow • Bye Bye Love • Raw Hide • Down On The Corner • Christmas Medley • Ring Of Fire • Wimma Wey • Sweet Dreams Are Made Of This
• Down By The Riverside • Dream, Dream, Dream • Goodnight Sweetheart • Footloose • Going To The Chapel • My Sharona