Alan Casey Entertainment Agency - Australia

Brisbane - Sydney - Melbourne - Gold Coast - Sunshine Coast - Toowoomba - Ipswich - North Coast
New South Wales - Queensland - Victoria

Ph 1300 666 286 International 61 +7 3290 1733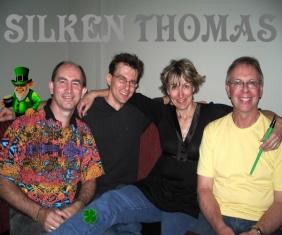 Silken Thomas
4p From $1250
Silken Thomas, a four-piece Celtic band, consisting of guitar (electric and acoustic), bass guitar, flute, tin whistles, bodhran and drums. Most songs feature three to four-part harmony in the vocals and the song repertoire is vast. Silken Thomas plays predominantly Irish music (ie: folk, modern, very little traditional Irish), but the band also plays Scottish music as well as some original and contemporary works, (ie: Eric Clapton, Jimmy Barnes, Van Morrison). Silken Thomas crowds enjoy the familiarity of the bandís songs and the dance floor is rarely empty on a Silken Thomas night.
Silken Thomas has a great mixture of sounds and songs to suit all tastes.