Alan Casey Entertainment Agency - Australia

Brisbane - Sydney - Melbourne - Gold Coast - Sunshine Coast - Toowoomba - Ipswich - North Coast
New South Wales - Queensland - Victoria

Ph 1300 666 286 International 61 +7 3290 1733

Zoe L'amore - Cirque Extreme - Selection of Performances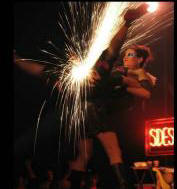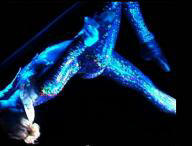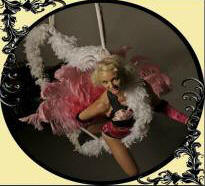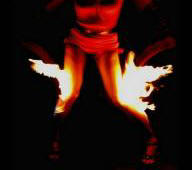 Grinder Girls
After a cute burlesque style feather fan into - Behold the ballet of sparks as the angle grinding duet perform as acrobatic choreography, grinding metal plates strapped to their bodies.
Strictly for the hardcore.
Sword Ladder
A deadly ladder is presented - In place of steps are 100% real curved sword blades!
Dramatically the girl ascends the ladder barefoot!
At the top she balances in a contortion pose.
Finally the girl lies across two swords, she is lifted into the air spinning.
Techno Web
A dynamic aerial act to excite all!
The spin begins slowly, accelerating as the aerialist weaves through a choreography of flexibility,
suspended by a single hand and the one foot. She is a blur backed by techno music and mirrors.
The effect is a human disco ball!
Aerial Heart
A unique aerial performance is a feathery heart!
A sleek routine of aerial acrobacy with feather fans and pin up girl poses, climaxing in a dynamic foot spin finale! Cheeky culture! Also great as an aerial installation.
Sky Candy
A doubles trapeze act, performed at dazzling heights with a stunt cane!
Gorgeous showgirls present a skilful display of breathtaking trust in the air.
Vintage burlesque. Great late night sassy!
Fire & Hula
Hot, Flaming Hula Girl start with some delicious fire eating and flair body burns then rocks the
crowd with her handling of the dangerous ring of fire. A mesmerising favourite!
Email Us Phone: 1300 666 286