Alan Casey Entertainment Agency - Australia

Brisbane - Sydney - Melbourne - Gold Coast - Sunshine Coast - Toowoomba - Ipswich - North Coast
New South Wales - Queensland - Victoria

Ph 1300 666 286 International 61 +7 3290 1733
Christmas Show - the 2 Santa's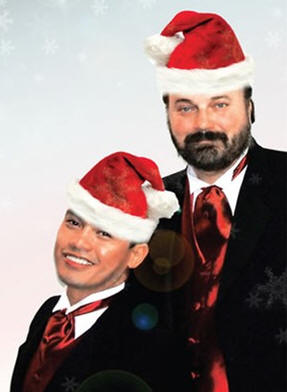 When two of the country's most outstanding singers join forces as
The Two Santas
They are guaranteed to have the audience watching in awe.
Be enchanted by the Yuletide harmonies of two of the Gold Coast's most talented tenors -
Lachlan Baker and Daniel Mallari. The Two Santas will send your spirit soaring with a powerful selection of carols including; O Holy Night, Santa Claus is Coming to Town, Popera Christmas Medley (Joy to the World, Good King Wenceslas, O Come All Ye Faithful) and a repertoire packed with many tenor favourites ranging from Arias to Broadway hits and timeless classics
Lachlan Baker, the son of a Mt. Tamborine dairy farmer, classically trained at the Queensland Conservatorium and has toured Australia and Japan in the opera Aida.
This dramatic tenor revived his unforgettable performance of the character Jean Valjean in the Gold Coast Arts Centre anniversary production of Les Miserables.
He was captivating as Peron in Evita and was in Simon Gallagher's production of The Merry Widow at the Lyric Theatre.
Grand Finalist on Channel Nine's TV series Starstruck portraying Luciano Pavarotti, Lachlan has released his debut CD aptly titled For the First Time.
Popera Tenor Daniel Mallari, born in the Philippines and one of 15 children is an amazing showcase of versatility. This multi-award winning performer represented Australia in the USA as winner of the Fast Track to Fame National Talent Search, Daniel has worked with the Hong Kong Opera Society and his credits include Turandot, The Pyjama Game. Dr Seuss and Walt Disney in Concert and played Sir Archibald Proops in the Australian premiere of Jekyll & Hyde - the musical alongside Rob Guest. Following numerous recordings, this most versatile dynamic tenor released his debut solo CD my corner of the sky in 2003 followed up in 2006 with his latest release titled Chasing Dreams. Besides his solo career, Daniel is also co-producer and musical arranger of D&G Entertainment's Popera Classics Collection.
THE TWO TENORS always amuse the audience when on stage as the physical difference is so great
(five-foot nothing Daniel and man-mountain Lachlan), that Daniel barely reaches Lachlan's armpits.
"Despite the pair being 'miles' apart in height, Lachlan and Daniel are in perfect harmony when it comes to singing"
Gold Coast Bulletin
"The Two Tenors showcase the music that lasts. Miniature dynamo Daniel and super-sized singer Lachlan combine culture with comedy.
They may be mismatched in size but their voices are perfectly in tune."
Queensland Style Living
THE TWO TENORS repertoire is packed with many tenor favourites ranging from arias such as O Sole Mio, Amigos Para Siempre, Libiamo, La Donna 'e Mobile, Granada, Funniculi Funnicula and Nessun Dorma to Broadway hits including This is the Moment, Tonight, Maria, Bring Him Home, Music of the Night, Anthem, and timeless classics including The Prayer, Unchained Melody, New York New York, You Raise Me Up, Perhaps Love and Danny Boy
and of course those ever popular 'cameo' appearances by their 'special guests'!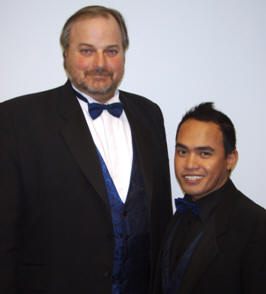 Pioneers in Popera since 1998
Alan Casey Entertainment Agency - Australia

Brisbane - Sydney - Melbourne - Gold Coast - Sunshine Coast - Toowoomba - Ipswich - North Coast
New South Wales - Queensland - Victoria

Ph 1300 666 286 International 61 +7 3290 1733