Alan Casey Entertainment Agency - Australia

Brisbane - Sydney - Melbourne - Gold Coast - Sunshine Coast - Toowoomba - Ipswich - North Coast
New South Wales - Queensland - Victoria

Ph 1300 666 286 International 61 +7 3290 1733

The Lions Den Platters to Popera & Pavarotti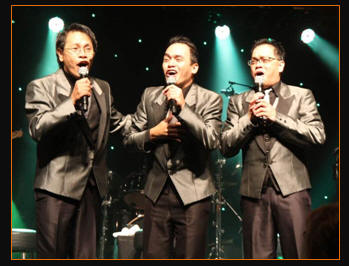 The Lions Den is one of the most exciting Acts born from Queensland consisting of three individually acclaimed and award-winning performers; Joel Gonzales, Daniel Mallari and Lloyd Saniel.

This trio of Leos specialises in spectacular harmonies and continues to amaze audiences with their vocal range, control and tone - reminiscent of the celebrated Doo-Wop male vocal groups formed in the 1950s when pop, gospel and rhythm and blues came together in a new style that later crossed over to the pop charts with unprecedented success.
The Lions Den lifts audiences through positive, inspirational and high-spirited songs.
Their dynamic and diverse repertoire features the timeless classics of renowned male group hit makers such as;
The Platters (The Great Pretender, Smoke Gets In Your Eyes, Only You), The Penguins (Earth Angel),
The Drifters (Saturday Night at the Movies, Stand by Me, Save The Last Dance For Me), Bee Gees (How Deep Is Your Love), The Beach Boys, Righteous Brothers (Unchained Melody) and Frankie Valli & The Four Seasons including a tribute from the smash hit musical Jersey Boys (Sherry, Walk Like A Man, Big Girls Donít Cry).

This performance is guaranteed to have the audience singing along and tapping their feet!
The Lions Den presents the immensely popular and timeless cross-over of doo-wop and pop music in a fresh, exciting and contemporary production celebrating legendary artists and music in a Show produced especially for each occasion and accessible to everyone.