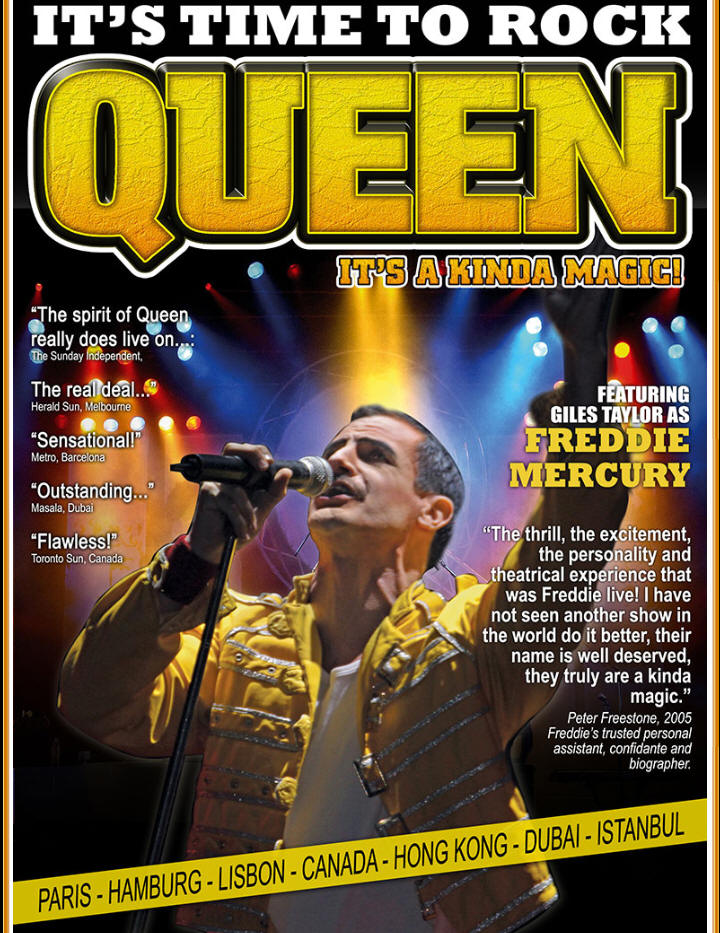 Que
"You literally forget it's not Queen up there on stage. I'm still in awe. .."

QUEEN - It's A Kinda Magic - The Kodak Theatre

by Jose Ruiz

They began to filter in from different parts of the city. It looked like it could by a meeting of AARP, with people in their '40's, '50's, '60's - possibly more. They waited in the lobby of the Kodak Theatre with anticipation. Then some children showed up. Kids with their parents - some perhaps with their grandparents - jumping up and down eagerly, like they would at Disneyland. People talked with quiet excitement, but some couldn't always be understood. That's because there were several languages going on. Sometimes it was English - at times Spanish - some Japanese - some Chinese - occasional French. Is this a new Babel, we wondered. The kids kept running in the lobby. When did a rock concert become a family affair?

The the whole think fell into place. Twenty - thirty years ago these post baby boomers were followers of the legendary band, Queen. They had been the faithful who went to the Forum back in the 1980's and waiting in line for hours to buy tickets. They had been the ones who stood and sang the lyrics and waved their arms. They were the ones who brought their boyfriends and girlfriend to the concert, carrying a little stash o 'grass' rolled into a couple of joints, as they were called, and mellowed out with the music which carried them beyond nirvana.

This night they came back. This night they dragged their kids and grandkids along and their stash now is a roll of Tums, maybe some breath mints and a bottle of water, but they still came back, expecting to take that trip to a land where only music can carry you.

They were not disappointed.

Queen, It' A Kinda Magic stopped for a one night show at the Kodak on a U.S. tour that began in Sacramento and will end in Syracuse, N.Y. making eleven stops along the way. This is not a tribute band. This is a theatrical experience that puts the audience in a Queen convert, like the ones back in the days of Freddie Mercury. It is an astonishingly accurate replication of the performances staged by Freddie and Queen, down to the light cues, the costumes and even a replica of the Red Special, the guitar Brian May used. This is a group based in Australia, and their travels have taken them all over Europe, parts of Asia and now the United States.