Alan Casey Entertainment Agency - Australia

Brisbane - Sydney - Melbourne - Gold Coast - Sunshine Coast - Toowoomba - Ipswich - North Coast
New South Wales - Queensland - Victoria

Ph 1300 666 286 International 61 +7 3290 1733
Life Fun Activities Programs
Programs for Children, Youth, Young Adults, Adults, - Family Events - Corporate Events
Price on Application - Date, Time, Location, Number Attending, Ages,
Life Games Adventure Activities Program.
(Games for 5 years to adults)
Our trained leaders will organise co-operative, non-competitive fun games and activities, which can
involve people of all ages and abilities. Utilising exciting equipment such as giant earth balls, boffas,
parachutes, fireman toss mats, 4-way tug of war, big foot relay and many non-equipment games. The
leaders provide flexibility to the day so that a variety of different games and activities can be played
throughout. The number of leaders can be increased or decreased depending on your needs for the day.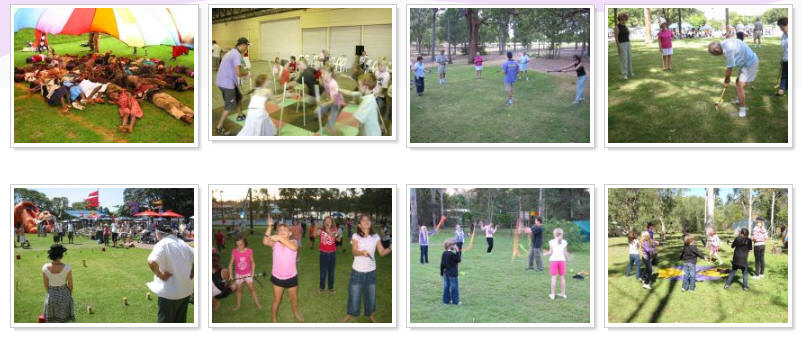 Multicultural Games Program
Our multicultural games program is designed to help improve hand/ eye co-ordination and is a great
addition to any event. To do this we have selected interesting games from around the world, including
Africa, Polynesia, Egypt, Germany, Sweden, England and of course Australia. The activities will have
the participants catching, throwing, balancing, juggling and having a great time. Suitable for young and
old, our multicultural games will keep them on their toes and help make your event one to remember.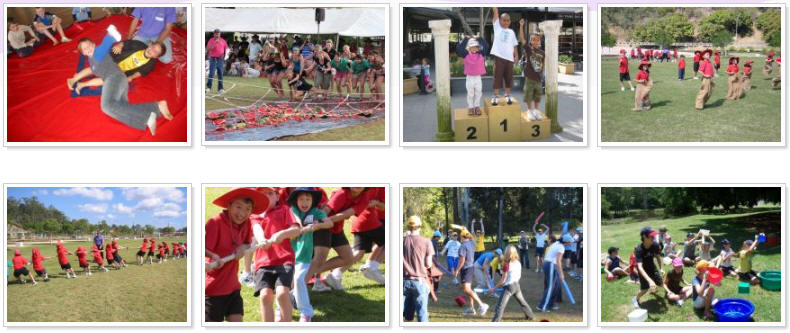 Mini Olympic Games Program
This is a fun adaptation of the Olympic games, as we know it. With outrageous activities like gum boot
toss, sack & field race, tug of war, earth ball relay, sock wrestling, super sumo, boffa hockey, three leg
races, earth volley ball and more. The program is more focused on having fun than winning or losing.
Our mini Olympics is a semi-competitive program designed for all ages to enjoy and have a go.
For an extra challenge we have the option of a point system, coloured team tags and scoring cards,
which makes this program ideal for that fun corporate team challenge.





Heritage & Colonial Games Program
Take a walk down memory lane with a wonderful array of family fun games our grandparents played as
children. This program acts as a great reminder that you donít need fancy computers or TVís to be
entertained, just your imagination and some great ideas. Including in the activities will be stilt walking,
sack races, horse shoe pitching, novelty relay races, gum boot tossing, 3 leg races and more.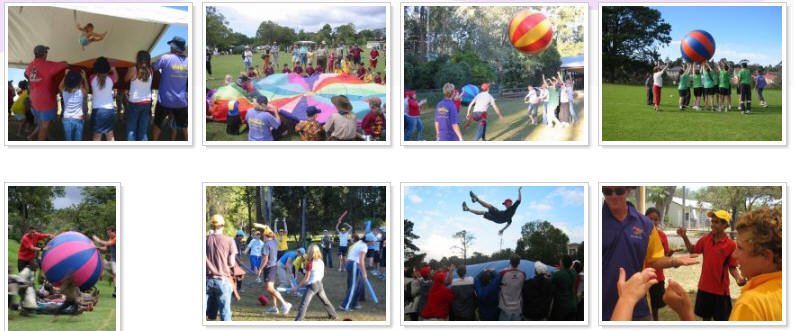 GIANT Games Program
Great for garden events or parties as well as indoor entertainment, this program offers some old time
favourites with a GIANT impact. With games like GIANT connect four, giant dodge ball, giant chess,
giant snakes and ladders, giant checkers and lots more. This program will sure bring some excitement
and GIANT size smiles to your next event. Itís also a great way to reintroduce some old time favourites
to help engage the older kids.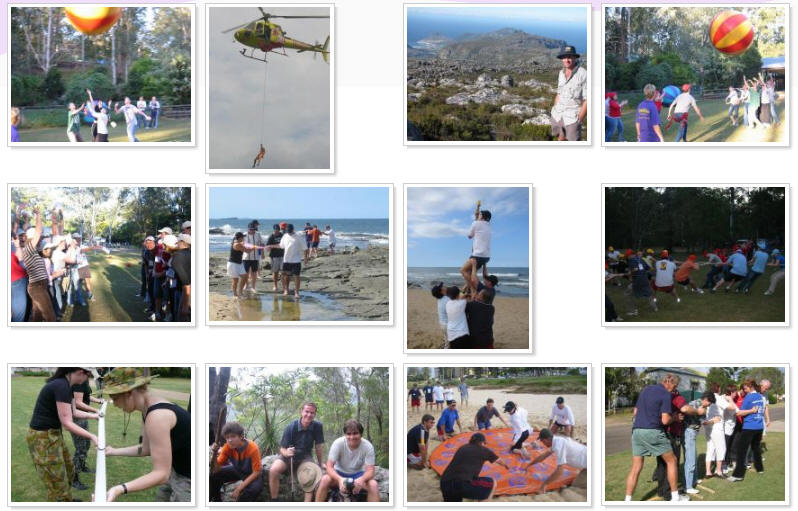 Team Building Program:
The Fun Works team building program works by creating fun yet challenging activities for the
clients/students to experience. Our activity leaders will facilitate your group through challenges like
giantís finger, human calculator, big foot challenge, spider web, half pipe, human knots and tug of war,
just to name a few. Itís no wonder participants of all ages enjoy this program so much.
To help with the learning experience, our leaders provide debriefing throughout the program
to link the activity to real life situations.
Email Us Phone: 1300 666 286
Alan Casey Entertainment Agency - Australia

Brisbane - Sydney - Melbourne - Gold Coast - Sunshine Coast - Toowoomba - Ipswich - North Coast
New South Wales - Queensland - Victoria

Ph 1300 666 286 International 61 +7 3290 1733