Alan Casey Entertainment Agency - Australia
Brisbane - Sydney - Melbourne - Gold Coast - Sunshine Coast - Toowoomba - Ipswich - North Coast
New South Wales - Queensland - Victoria - South Australia

Ph 1300 666 286 International 61 + 422 434 014
Herman's Hermits Story - presented by Mersey Connection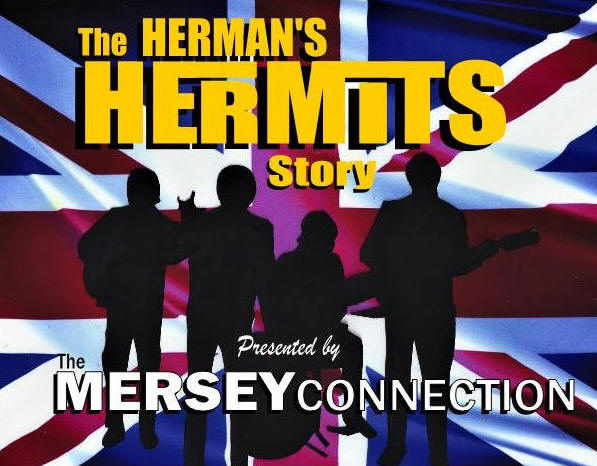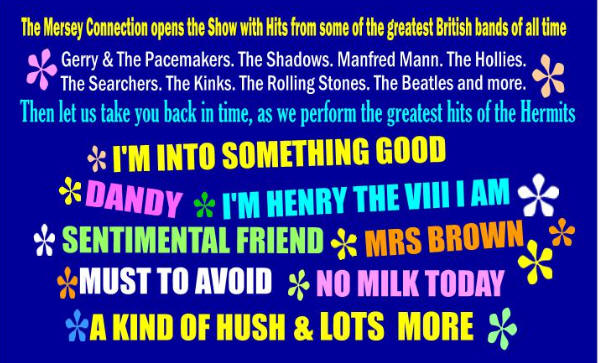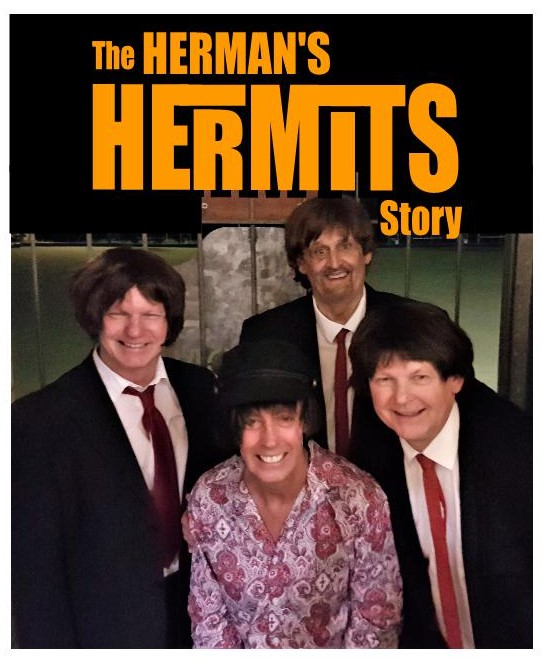 THE HERMAN'S HERMITS STORY
TAKES YOU THROUGH AN EXCITING MUSICAL JOURNEY OF THE MUSIC
FROM ONE OF THE MOST SUCCESSFUL BANDS IN THE 60'S.

The band combines the musical and vocal talents of
Ron Gaydon  Wayne Place  Barry Hardcastle  Mark Redmayne

Ron's early career as lead vocalist and guitarist led to a recording contract with Festival Records, and an appearance on Countdown. He has supported acts like Richard Clapton, Split Enz and Midnight Oil among others. For the last 15+ years Ron has led and performed as lead singer and guitarist in the popular Sydney tribute show, The 3Bs Show (Bee Gees, Beach Boys and Beatles).
In more recent times Ron has also formed and performed in a number of tribute shows including, The Immortality Show,
(Bee Gees and Hollies) and The Monkees Live Again (with Herman's Hermits in support).
The Herman's Hermits Story was reborn in collaboration with Wayne Place on Drums and lead vocals.

Wayne worked the Sydney club circuit performing for up to 4 nights a week for many years in his early career as drummer and lead vocalist. His bands performed many genres of music, and Wayne was highly regarded as a drummer and singer at the highest level. Along the way Wayne worked with Tommy Emmanuel on his single "Serene", which was nominated at the Tamworth Music Festival, and collaborated with Tommy on a number of radio jingles. Wayne was also signed to Essex Music Australia. Wayne has recorded a number of country albums, and continued to perform numerous shows over his long career.

Barry has performed numerous shows in his career. Barry forged his career doing many gigs in bands such as Bravura, and "Variety shows" like Jumpin Jive, a recreation of artists in costume from the 50's, and Catch 22, a recreation of artists in costume from the 80's. These shows enhanced Barry's versatility as an artist to this day. Hence when Barry joined The Herman's Hermits story,
he fit in like a glove, and has never looked back. He also spent time working on the Tamworth club circuit,
and performing with notable artists like Troy Cassar-Daley.
Barry is recognised as one of the top bass guitar players in his field, and adds a great third harmony to the band.

Mark has worked as a session guitarist in Tamworth and on the Gold Coast, and is highly regarded as an accomplished Musician.
One of Mark's career highlights included touring Australia and New Zealand as lead guitarist for the Johnny Young Stars of Young Talent Time Show. Mark has also been lead guitarist and vocalist in a number of variety shows that have worked
along the East Coast of Australia, and was a member of the Beatles tribute show for a number of years.
Mark currently works in a successful duo on
Price subject to date, time required, location of event