Alan Casey Entertainment Agency - Australia

Brisbane - Sydney - Melbourne - Gold Coast - Sunshine Coast - Toowoomba - Ipswich - North Coast
New South Wales - Queensland - Victoria

Ph 1300 666 286 International 61 +7 3290 1733
Golf Day - Chip & Stick Games
<![if !vml]>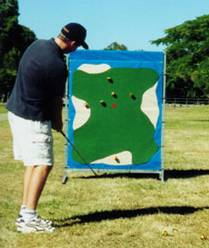 <![endif]> <![if !vml]>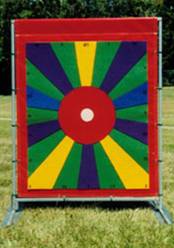 <![endif]>
Chip 'n' Stik Golf Day Games
Novelty Hole Fun Activity - Sponsored Hole "Ice Breaker" - Charity Hole Fundraiser - Pre Game Amusement
While Chip 'n' Stik games may look easy to play they are in fact very challenging - just like golf!
Players simply chip special Velcro covered golf balls at the large game "board". But to get a hole in one; bulls eye or a goal is where it becomes a real challenge.
You will find the players soon become hooked.
You have a choice of "nearest the pin", scoring or target games. By far the most popular is our "darts" game (top right image).
It is just like a dartboard but on a much bigger scale.
Chip 'n' Stik games can help you in the following ways:
Novelty Hole Fun Activity - Give players a fun break during their round with one of our games.
You can keep it very simple and let them enjoy it while they wait to tee off or have a team challenge.
There are many different ways the players can have fun with this activity that we will share with you.
Sponsored Hole "Ice Breaker" - A perfect fun activity to allow your personnel to more easily interact with the players.
You can also use it to run competitions which can be as simple or as hard as you decide.
Charity Hole Fundraiser - A quick and easy money maker where players pay to enter a chipping competition. We will help you with the competition ideas.
Pre-Game Amusement - Let the players enjoy some very laid back fun before they hit the course. Some will even treat it as their warm up!
You can also use it to run simple chipping competitions with instant giveaways.
After play has started you can move the game to a novelty hole and thus get twice the use for one low price.
Hire covers delivery, setup, pickup, balls, clubs and chipping mat.
You can supply a staff member to run the fun or we can supply a operator for you for additional cost

At this stage the games are only available for golf days in Brisbane and the Gold Coast.
<![if !vml]>

<![endif]>
Alan Casey Entertainment Agency - Australia

Brisbane - Sydney - Melbourne - Gold Coast - Sunshine Coast - Toowoomba - Ipswich - North Coast
New South Wales - Queensland - Victoria

Ph 1300 666 286 International 61 +7 3290 1733