Alan Casey Entertainment Agency - Australia

Brisbane - Sydney - Melbourne - Gold Coast - Sunshine Coast - Toowoomba - Ipswich - North Coast
New South Wales - Queensland - Victoria

Ph 1300 666 286 International 61 +7 3290 1733
Triage - Acrobatic Mime Three highly skilled and versatile performers dressed in stylised costumes deliver jaw dropping feats of acrobatic balance.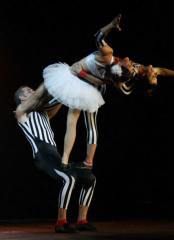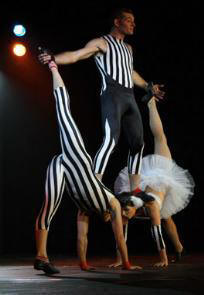 Stage Performance:
From the Sublime:
Think cabaret crossed with Chicago crossed with Moulin Rouge - add a touch of black tie & the magical allure of Cabaret. They can be sensual and seductive, charming and sophisticated and just a little tongue in cheek. Perfect for an elegant function, Triage will bring a keen edge to any formal gathering.
To the Ridiculous:
With the comedy escalated to an extreme, Triage are an accident waiting to happen - as they bring us jaw breaking feats of acrobatic balance, Stitched together with an ample dose of tongue in cheek, and a stretcher load of talent thrown in for good measure... who shall we save first?!
What do they need?
(Technical Specifications)
Minimum requirements for Triage to perform the stage show are: