Alan Casey Entertainment Agency - Australia
Brisbane - Sydney - Melbourne - Gold Coast - Sunshine Coast - Toowoomba - Ipswich - North Coast
New South Wales - Queensland - Victoria - South Australia

Ph 1300 666 286 International 61 + 422 434 014
Undercover Singing Waiters + Chefs & Waitresses
Solo - Duo Trio - Quartet performances - Sydney - Melbourne - Brisbane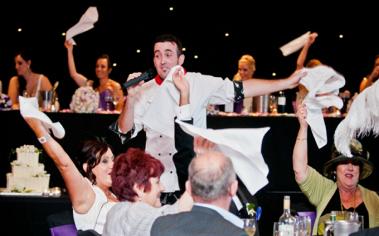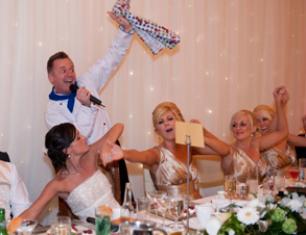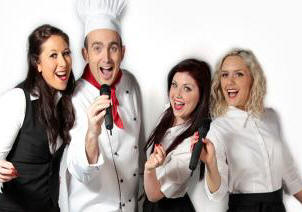 The singers can be disguised as Waiters, Chefs, MC's, Restaurant managers or Guest Speakers, the options are endless.
At a certain point in the event they get the attention of the room and slowly reveal their hidden talents!
It's great fun and appeals to all ages.
Solo Undercover Act can appear as a Maitre D, Event manager, Waiter Guest Speaker or the Singing Chef
Blessed with a fabulous voice, and a great sense of fun and wit.
He will serenade your guests, and have them laughing, crying and cheering for more!.

Two Person Male/Female Undercover Act Our "Singing Chef / Waiter" is joined by a top international diva,
undercover as a waitress. From Opera Pops to Sassy hits like "Big Spender". Our Glamorous Diva will soon have your
event really buzzing! She'll raise the roof with her singing and chase the Chef /Waiter back to the kitchen / bar.


What our clients are saying!!
" I just wanted to say Mario was absolutely amazing! We all loved his performance so much, he was so entertaining
and his voice purely stunning.
Thank you so much Rebecca Ricapito 15th July 2016
'Roberto the Chef' and the 'Banquet Manager' were sensational, both playing their parts beautifully.
Their magnificent vocal performances, spiced with just the right amount of fun and humour, made such a difference to our event.
Carol Rawson 21st January 2015
"I just wanted to say how fantastic the act was at our wedding. It way exceeded my expectations! I love your company and am recommending it to everyone I know.
"Juan and "Maria" were amazing and certainly knew how to entertain and hold the audience captive.
Thank you once again to everyone for making my son's wedding the talk of the town!
Lynne Horowitz - 24th March 2013